Top 7 challenges faced by property managers
The biggest property management challenges
Every job has its challenges. Everyone has those moments when things feel like they're getting too much, whether it's the hectic holiday period for emergency care staff or the chaotic weeks that follow the summer holiday for teachers.
Property managers are not immune to this. A property management team may be expected to deal with a number of challenging issues, leading to stressful days at the office and sleepless nights at home.
In this guide, we'll look at the biggest challenges faced by property managers and provide some insights that will be familiar to everyone in this profession.
Common challenges faced by property managers
Whether you manage residential or commercial properties and whether you manage a small or vast portfolio, there will always be challenges that you can't seem to overcome and clients that are unhappy no matter what you do.
The bad news is that everyone has them and they're not going anywhere. Even when you feel like everything is on track and running smoothly, it's surely a matter of time before another issue arises. The good news is that they can all be overcome.
Here are the biggest challenges in property management:
Scaling revenue
If your revenue isn't growing it will be difficult to keep up with cost inflation, and with inflation the highest it has been for 30 years, that's a big problem.
Ideally, you need to stay competitive and keep growing your business—taking advantage of new opportunities and acquiring new clients and projects. At a more basic level, it's about staying in business and keeping things ticking over.
Tenant management
Finding new tenants is one of the biggest challenges faced by property managers. You have to market the property, find the tenants, screen them, and then draft lease agreements. It's a lengthy process and in recent years, it has been complicated by world events and unprecedented market changes.
The restrictions and lockdowns of 2020 and 2021 created all kinds of headaches for the property sector. In 2021, sales dropped and supply increased. Fewer properties were being sold and rented and rules regarding social interactions and isolation meant it was harder to arrange viewings and inspections.
In 2021 and 2022, things went in the opposite direction, with the rental market growing by a quarter and creating a demand that many property managers hadn't seen for years.
But that's not the half of it. Once you find the tenants, you need to make sure they stay there, keep paying rent, and abide by the terms of the rental contract.
It's no wonder that tenant management is regarded as one of the biggest property management challenges and one that has led to countless sleepless nights.
Project costs
A building is damaged and requires unexpected maintenance costs. A tenant refuses to pay or delays payment. You need to hire more staff and pay more money.
There are many cost-related headaches, so it's no surprise that cost is one of the most commonly cited property manager challenges.
Lack of time
Feeling like there just aren't enough hours in the day is a problem in many professions. It's especially prevalent in property management, a multi-faceted job that demands a great deal of time and attention.
There's always something that needs to be done, whether it's a property that needs new tenants, a contractor to call, or paperwork to complete.
As with many other challenges faced by property managers, time management is something that can be controlled using property management software. It automates many of the processes that take up your time and ensures that everything is running smoothly and efficiently.
It's a time-saver, and when you're dealing with such hefty workloads and demanding tasks, it can feel like a lifesaver.
Admin work
On the subject of quality property management software, it can also deal with a lot of the admin tasks that find their way onto those to-do lists. Invoices, agreements, payroll—these things can take vital hours away from a property manager's week.
The work needs to be done and the business can't operate efficiently until it is. But it doesn't need to take long, nor should it be prioritised over more complicated and time-sensitive tasks. Win your time back with Secure Sign and Invoice Automate.
Keeping up with maintenance requests
Property maintenance constitutes a large part of a property manager's duties. It's in the job description, and it's something that needs to be done properly and quickly while ensuring both the landlord and tenant are happy with the results.
One of the challenges faced by property managers is building a list of skilled contractors who can be relied upon the complete the work as needed. Roofers, electricians, plumbers, and general handymen need to be just a phone call away if a property needs emergency repairs.
Property maintenance is also very unpredictable. You can plan other areas of your business, whether it's hiring new staff, acquiring new properties, or moving to a new head office. But you can't predict when a roof will leak, or a water pipe will burst. And if multiple issues occur simultaneously, you could find yourself with a hefty bill, a lengthy to-do list, and a lot of messages from angry tenants and impatient landlords.
Luckily, you can use Maintenance Plus to manage your maintenance jobs. Efficiency in communication & maintenance management in one platform, Maintenance Plus is the most advanced solution for property maintenance, accessible from within Palace.
Hiring quality staff
A good team member is someone you can rely on; someone who will work hard and maintain a good relationship with clients, contractors, tenants, and other team members.
Unfortunately, finding employees who can adequately fill this role is not easy, and until you do, you can't grow your business with confidence.
It helps to take your time with this process and ensure that you thoroughly vet all applicants and consider everything from work experience to job proficiency, character, and work ethic. But that takes time, and as noted above, property managers don't have a lot of free time.
The biggest challenges faced by property managers
These are just the main challenges faced by property managers, there are others out there, proving that this profession isn't for everyone.
If you run a property management firm and need a helping hand, check out our integrated property management software. It keeps all the important stuff in a single system and provides easy organisation and access, giving you more time to deal with tenants and grow your business. Request your Palace demo now!
Property Management Software
Multi-discipline technology for property owners, investors and occupiers.
Get a Demo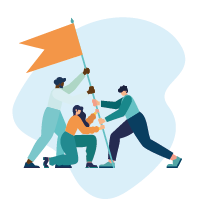 Webinar: Secure Sign for Palace
Make signing real estate documents easier than ever with MRI Secure Sign. Manage all your lease agreements, contracts, and other documents through one, easy-to-use solution. Learn how you can: Meet deadlines faster with online signature management.
Watch the Webinar